---
Have a question we have not answered? Send us an email - SEND
| | |
| --- | --- |
| | Your product works with Microsoft's Excel. I have Excel as part of my Office suite of products but do not have the time or the desire to learn how to really use this program. Should I skip your product and look for something similar that is easier to use? |
| | I have a service and associated product material; what should I sell it for? |
| | What profit does my competitor have on the same service & product we provide? |
| | I get $944.08 profit on each product I sell, is this a moneymaker? |
| | Does the product cost change if my company asks me to sell the product at a specific price or gross margin? |
| | My company wants to make good profit but does not insist on a specific GMP or sell price. They rely on me to set the sell price. However, my costs are not fixed. In addition to the usual material & labor costs, I sometimes need to pay parking and subcontractor costs, other times I pay only freight charges. How does this affect the GMP? |
| | Assume I bid a project at a specific sell price, and downstream I find additional costs that I did not count on. How will this affect GMP? |
| | So if I use lower raw-labor rate people to complete the job, the increased costs mentioned above may be offset by the cost decreases from labor? |
| | How does your cost chart work in TrakPro? |
| | Along that same line as question #8 above, how does TrakPro handle the estimate-to-complete (ETC) cost projection? |
| | In TrakPro, what is the "Over/Under Minimum Billing Amount" and what is it used for? |
| | In TrakPro, what is the function of the WIP Sheet? |
| | I have many technicians (at different pay grades), many products, different configurations, variable timeframes and more. How do I calculate the sell, GMP, billing and cash position numbers easily and quickly? |
| | A 3" diameter EMT conduit we want to use already has 2 sets of cables (10 cables @ 0.2" dia and 5 cables @ 0.31" dia). We want to add 43 cables @ 0.26" dia. Will we still be to standard at the 40% max fill? |
| | Please help with the bid price for the following: 525 new CAT6 V/D runs and 25 new fiber locations. All are at an average 200' distance from the MDF except 3 fiber runs that are 250 feet station distance. All voice/data/fiber cables land on patch panels. The CAT6 cable costs me $0.23 per foot, the multimode fiber cable is $0.38 per foot, the rack is $180. The 96 port data panels cost $878.40 each, 12 port data panels $121.80 and the 48 port fiber patch panel is $134.40 each (with couplers only,unterminated). I mark up my material 20% and my burdened labor is $26.00 per hour and the labor sell price is around $54.00 per hour.The customer wants 20% growth on the panels. Can you help? |
| | I notice many questions relate to computer cabling projects, does your software handle different business projects? |
| | Do I need to update your programs regularly to keep them current? Do I need to buy additional copies or licenses to run your program on my work and home computers? |
| | Your logo is a moon overlooking the earth. Is there any significance to that? |
| | Peter we have a 5" EMT conduit that has the following existing cables (50-0.215" OD, 75-0.115" OD and 45-0.30" OD). We want to add 45-0.24" cables to this conduit, will we still be to the 40% maximum fill standard? We see that your "Peter's Fill" sheet has the multi-cable calculations but not the EIA/TIA sheet. Can you design a sheet for the EIA/TIA multiple cables? |
| | We are using TrakPro, see below, and was wondering how we can make the 28.3% gross profit margin project look like we made a 30% GPM? We can finish the project (20 hours) with an $18/hour guy but that didn't give us the results we wanted. Please hurry with information! |
| | We are planning a future multi-story building and want to be ahead of the installation game. How much conduit capacity is needed for the CAT6a communications cable? |
| | Our company utilizes the formula for material sell price as Sell = Cost divided by 1 minus the gross margin %. BidPro uses a markup % times the cost. Our formula example for a 40% GPM: the $100 cost = $166.67 sell. BidPro shows a 40% markup so the sell price is $140.00. How can we reflect our Accounting requirements in BidPro? |
| | There is an existing empty 4" EMT conduit that has 3 - 90 degree elbows. The customer asked us to use this existing 75' conduit (due to budget constraints) and install 70 - 0.24" OD cables? |
| | Whom do you recommended as a supplier for communications cabling products? |
| Question 24: | I have a business that arranges flowers for weddings. I can't seem to make money on this venture because soooo... many people compete in that field. I love what I do but cannot continue to break even or loose money. What can your software do for me? |
| Question 25: | We are using your ConduitPro to determine conduit capacity. Your special fill sheet can calculate up to 4 different cable types, we have a need for 6 to 8 different groups. Can you help? |
| Question 26: | Can we use BidPro in a Hollywood film making project? |
| Question 27: | We use CablePro and want you to add a graphical depicting of our bid material & labor figures. How do we go about asking for an upgrade? |
| Question 28: | Walk me thru LaborPro. As an example: I have 10 people I want to track per project. We have 40 hour work weeks (when business is good) but we have do not have paid holidays or vacation days. |
| | |
---
Question 0: Your product works with Microsoft's Excel. I have Excel as part of my Office suite of products but do not have the time or the desire to learn how to really use this program. Should I skip your product and look for something similar that is easier to use?

Peter Buitenhek Answer: You will not find any product that does all the things our's can do. Our products use Excel because it has worldwide acceptance. The beauty of Excel is that we made it look like a typical input sheet that will give you the results you want without having to program or understand formula structure.

As an example: using our program called, CablePro (determines product quantity, cost and sell price of a horizontal communications cabling project) and the Baseline parmeters: you only need to enter one (1) item to get the following results.

This is the entry area where you want to enter the quantity of Fiber - Voice - Data jacks


You enter 125 FVD (Fiber-Voice-Data) faceplates. Based on normalized data, you get: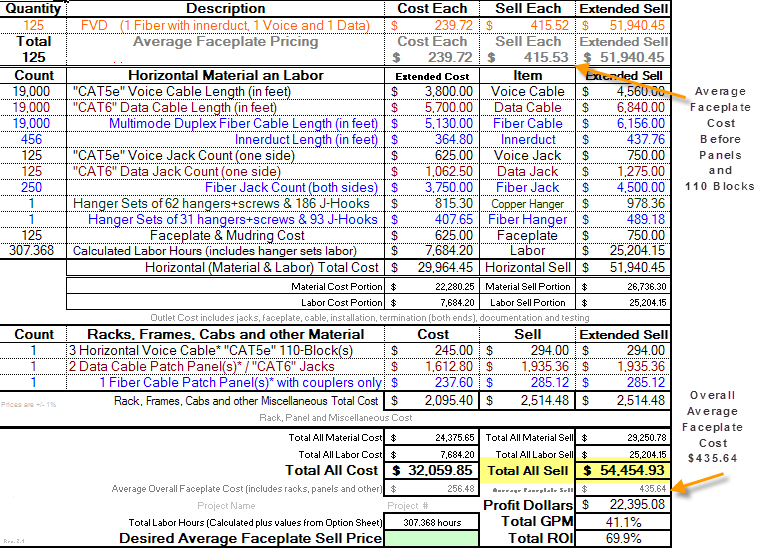 On this project you would bid $54,455 and make about $22,395 profit. Most contractors just seat-of-the-pants bid $450 per 1Voice/1Data/1Fiber faceplate ($450x125=$56,250), you should have a bid margin advantage because the average sell price is nearer to $436. Also construction loan applications tend to go easier when the bank or financier sees all costs, sell price and Gross Profit Margin. So you see there is no need to understand Excel, but you must understand your product: how it is bid and what your financial needs are. By the way, this bid took less than "20 seconds". return
---
---
---
Peter Buitenhek Answer: If the product costs you $1,256.18, then the sell price would be $2,200.26 at a gross margin of profit (GMP) of 42.9%. Any company would love a GMP over 40%; most companies have numbers ranging from 10% - 30%. However, if for example, your cost of the product was $12,561.80, the sell price would be $13,505.88 at a GMP of 7.0% - that would not be a moneymaker. return
---
---
---
---
---
Peter Buitenhek Answer: The Contract cost is shown across the (x-axis) baseline and extends left-to-right. After the project starts and actual costs start to accrue, a secondary line (blue) is added to the chart to depict cost relationship. If the actual line costs are to the right (below) of the contract line, the labor, material, subcontractor, and other project total costs are all within contract goals:

If any category costs are to the left (above) the contract goal, the actual line will fall to the left of the contract line signifying you are above contract cost. This easy-to-see graphic format is great for assessing many projects quickly.

return
---
Question 9: Along that same line as question #8 above, how does TrakPro handle the estimate-to-complete (ETC) cost projection?

Peter Buitenhek Answer: A tertiary line is added when Estimate-to-Complete (ETC) costs are forecast for project completion. If the ETC line falls below the contract line, the final costs will be below contract goals (yea). Conversely, a line above the contract will signify costs above the goal and suggests cost-saving or limiting measures should be implemented by management.

The process of viewing the line chart is a favorite for most companies. The question at all staff meetings reviewing projects invariable states, "Are we below the line? If so, next project." return
---
Peter Buitenhek Answer: Like my previous boss, George Harris, always said, "Hello!"
You need to stay profitable on every phase of the project. Look at the ratio between year-to-date actual plus ETC (estimate-to-complete) costs and compare this to the contract cost amount to determine how far along you are on the project. If you have used 50% of the costs then, hypothetically, you are 50 % done. Therefore, you should be able to bill a minimum of 50% of the total contract "sell" amount. TrakPro compares what you have billed and what you should bill to give you an "over/under" billing dollar amount.
Assume your costs are $365.75 and you have billed the customer $500 contract cost. You are $134.25 over billed. If the customer has paid the $500 invoice, then your cash position is $134.25 over cost. These "over cost" dollars thrill bankers and can be used to fund other projects without mixing project accounting funds. return
---
Peter Buitenhek Answer: The WIP (work-in-process) Sheet depicts your project standing in cost, profit, minimum billing and cash position. It breaks down overall material, labor and other costs and presents a hypothetical Time & Material (T & M) rate for reference.
TrakPro WIP then provides 3 Options for similar projects:
Option 2. What if we were to fix the material markup costs and/or Labor Rate (T & M)?
Option 3. What if we were to fix the material sell amount?
OPtion 4. What if we were to fix the labor sell amount?
Example: the customer has numerous similar installations and the previous contractor typically charged $500 total for labor. The customer became disenchanted with the current contractor, for whatever reason, and has asked you to bid the project with the proviso that the labor dollar amount be similar. You estimate the project, lock in the Labor Sell Amount, and decide at what GPM you want to bid the project.
A WIP chart will depict cost, sell price and profit dollars.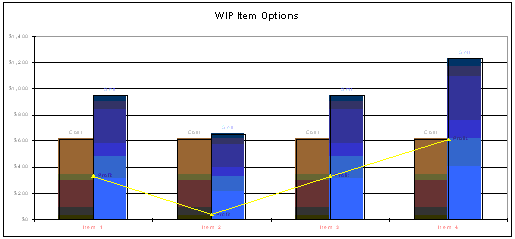 return
---
---