I wanted something cheap, quick and accurate. Not pick 2 out of 3!
And we needed software to help run a business that:
| | |
| --- | --- |
| | 1. could bid on any competitive projects that required varied products and services |
| | 2. would provide a structure to easily determine sales price, profit and gross margin |
| | 3. provide graphical depiction of results for easy project discussions |
| | 4. could track project actual to bid costs and focused on maintaining profits |
| | 5. quickly re-bid projects based on specific best-and-final guidelines |
| | 6. determine cash position and over/under billing when tracking a project |
| | 7. tracked worker attendance by hours, percent of goal and reason for absences |
| | 8. could bid on specific horizontal cabling projects quickly and accurately |
| | 9. determine conduit size and fill capacities for numerous communications cables |
| | 10. determine trough size and fill capacity for numerous communications cables |
We could not find programs with our desired features, so we designed & programmed the software packages ourselves. We used these packages on every project and the end result was consistent bid processes and better managed project funds. These tried-and-true programs are now available to you.
Microsoft© Excel™ has worldwide recognition and support so we based our design on Excel™. The design will utilize the spreadsheet approach by allowing easy customer inputs that yield sophisticated and very complex formulas. All packages utilize the basic and rote functions (add, subtract, concatenate, vlookup, index, match etc.) but will not utilize macros where potential software viruses can hide.
ISSUE: Many contractors bidding projects today still use "seat-of-their pants" practices. However, variances in technician/estimator ability and training nearly over-shadow the technical advances of product hardware and software design. Larger organizations utilized formalized bid-training programs and cumbersome prepackaged estimator/design software costing $5,000+. Conversely, smaller companies only have homegrown software or best-guess practices to bid sophisticated projects. On a recent project for a convention center, the owner received seven bids from contractors that ranged from $91,000 to $235,000. Prior to this bid, the owner did the homework with a designated supplier (GraybaR) to determine baseline material costs: $89,000! Obviously, major items like tax; labor and profit dollars were missed by some contractors and over-extended by others.
(see Peter Buitenhek's magazine article in Cabling Business Magazine).
EASY USAGE: These programs are Microsoft© Excel™ based and require Excel™ to run, but do not require a knowledge of Excel™ to use. The layout structure is common for all 5 programs and provides for easy input to get sophisticated and complex calculated results. User changeable parameters on all sheets are color-coded green.
Typical input layout for 60% Labor Markup Percent: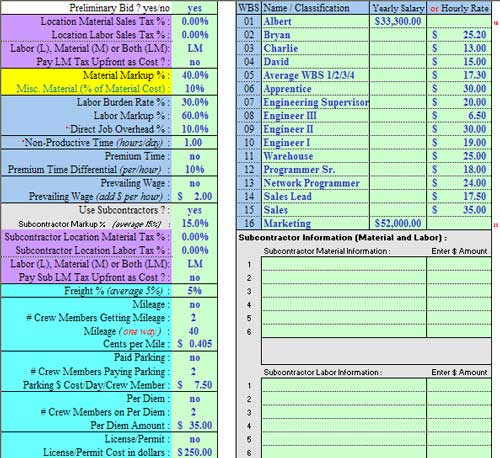 In the above BidPro example, all labor costs would be marked up 60%. There are sixteen WBS Employee Classifications slots that could be personalized by name, grade, function and raw pay rate. Sub-contractors can be used along with many other inputs with associated material and labor costs that are enveloped in the cost - sell Margins Sheet.
LOWEST PRICES: These easy to use programs are priced to give you a return-on-investment in just one project. Why so low?? We developed the software packages to run our businesses. These tools helped us understand cost/profit and allowed us to be very successful. BidQwik.com wants you to have this same opportunity without having to develop your own code.
1.

used to bid any product and/or service from $1 to $99.9 million. Provided are markups, costs, sell prices, gross margin and return-on-investment information. Six (6) scenarios can be used to determine sell price for competitive advantage.

2.

will track any product and/or service project actual costs versus bid costs to determine estimate-to-complete, over/under billing, basic invoice and cash position.

3.

determines horizontal structured communications cabling project cost, sell price, profit, gross margin and ROI based on minimal faceplate and install parameters. SME expertise required in cabling.

4.

is used to determine conduit and trough fill ratios for horizontal structured communications cabling projects.

5.

tracks weekly work hours (up to one year) and absentee excuses for up to 50 workers.

6.

5 Pack Bonus

all 5 software packages at a 30 % savings.
BidPro, TrakPro, CablePro, ConduitPro and AttendancePro.